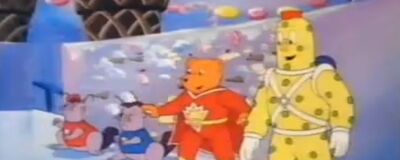 The Further Adventures of SuperTed is a popular animated television series produced by Hanna-Barbera and originally broadcast on The Funtastic World of Hanna-Barbera in 1989.
The show followed the popular SuperTed, a Welsh cartoon of the early 1980s. The title character was a poorly put together teddy bear who became the best friend and partner-in-crimefighting of Spottyman, so named because he hailed from the planet Spot and had several green polka dots covering his yellow body.
Spottyman took Ted to Mother Nature, who endowed the cub with super powers and a costume, giving Ted the ability to fly, fight crime, and bring adorable justice to everyone. In every episode, Spottyman and Superted battled villains such as Texas Pete and the Skeleton, sometimes with the aid of Spottyman's sister Blotch or Speckle the Hoparoo.
Parodies of all apects of American culture
Edit
The show poked fun at all aspects of American culture, from the Grand Ol' Opry to Star Wars. Victor Spinetti and Melvyn Hayes who were the voices of Texas Pete and Skeleton of the British series, was the only actors to provide the voice of the same characters in the American version.
Changes by the BBC
Edit
In the UK, Mike Young and the BBC decided to rerecord the series to use the original voices of Derek Griffiths for SuperTed and Jon Pertwee for Spotty, which also resulted in some minor script changes. The episodes were also split into two parts, thus creating 26 10-minute stories, which resulted in the series not being broadcast until January 1990 on the BBC. It was repeated again twice in 1992 and 1993.
SuperTed voiced by Danny Cooksey in the US version and Derek Griffiths in the UK version
Spotty voiced by Pat Fraley in the US version and Jon Pertwee in the UK version
Texas Pete, Bulk & Skeleton voiced by Victor Spinetti, Frank Welker & Melvyn Hayes
Polka face but turns into a nice character in the end of Dot's Entertainment voiced by Howard Morris
Bubbles the Clown voiced by Frank Welker
the dreaded Sleepless Knight voiced by ?
Dr. Frost voiced by ?
the Hairmongers and their leaders, Julius Scissors and Marcilia voiced by ?
the two spies from the enemy Striped Army voiced by ?
Prince Pyjamarama voiced by Frank Welker

Cancellation
Edit
The Further Adventures of SuperTed was cancelled after one series of thirteen episodes.
Episode list
Edit