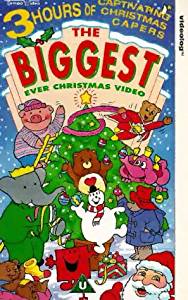 The Biggest Ever Christmas Video is a 3 hour children's compilation released in 1993 by Abbey Home Entertainment and Tempo Video. It features SuperTed and many other festive stories and characters. It runs 197 minutes in length.
Paddington Bear and the Christmas Shopping
Paddington Bear: Christmas
Barney's Christmas Surprise
Barney Winter Holiday
Mr Men Christmas Rescue
Care Bears: Ski Trouble
SuperTed Meets Father Christmas
Play Family Christmas Fun
Postman Pat Goes Sledging
Postman Pat Letters On Ice
The Snowman
Father Christmas
Santa's Pocket Watch
A Winter Story
The opening titles for 'Paddington' are cut out after the 'CHRISTMAS' caption and just goes straight into the episode.
The Opening Of This Video For The Biggest Ever Christmas Video The Tempo Pre School Video Was AHE Advert Also A Release Promo For The First FSF Video Was A Advert
'Letters On Ice' appears on this video without being credited on the cover.
The Bear Who slept Through Christmas And Grim Tales The Three Men In A Wood Are pictured on the bottom left hand corner of the front cover. but that Christmas cartoon stories is not shown on this video
Ad blocker interference detected!
Wikia is a free-to-use site that makes money from advertising. We have a modified experience for viewers using ad blockers

Wikia is not accessible if you've made further modifications. Remove the custom ad blocker rule(s) and the page will load as expected.