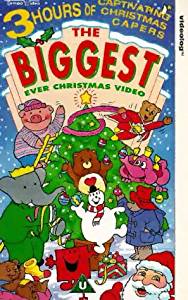 The Biggest Ever Christmas Video is a 3 hour children's compilation released on 1st November 1993 by Abbey Home Entertainment and Tempo Video. It features SuperTed and many other festive stories and characters. It runs 197 minutes in length.
Paddington Bear and the Christmas Shopping
Paddington Bear: Christmas
Huxley Pig Goes Skiing
Mr Men Christmas Rescue
Care Bears: Ski Trouble
SuperTed Meets Father Christmas
Babar and Father Christmas
Nellie the Elephant on a Snowy Day
Nellie the Ski Champion
Blue Toes the Christmas Elf
Christopher's Christmas Mission 
Santa's Pocket Watch
Santa and the Three Bears
The opening titles for 'Paddington' are cut out after the 'CHRISTMAS' caption and just goes straight into the episode.
Theodore Edward Bear from "The Bear Who Slept Through Christmas" is pictured on the bottom left hand corner of the front cover, but that Christmas cartoon story is not featured on this video.